Continuing to make a difference… her legacy live on.
It's been well over a year since Dorothea passed away, but her legacy still lives on.
On the Remembrance Wall at the Royal Society for the Prevention of Cruelty to Animals Queensland (RSPCA Qld) there is a green wombat plaque that bears her name. The plaque, along with others that hang next to hers, represents a thanksgiving to those who left gifts to RSPCA Qld in their wills.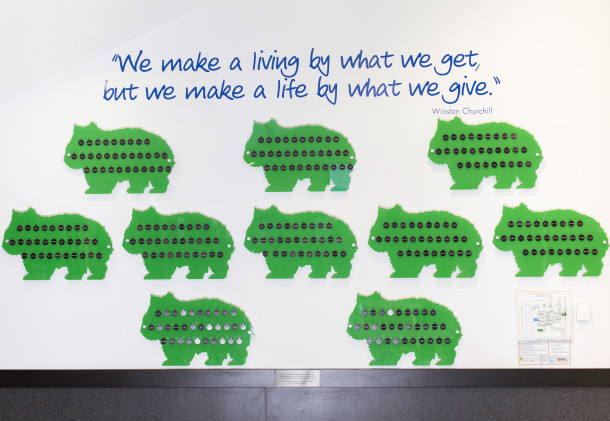 For over 28 years, her Modoras Executive Planner managed her financial affairs. Together building wealth, security and financial peace of mind. All for the joy of money whilst being alive? No… to enable Dorothea to live the lifestyle she chose and bequest her estate to those whom she felt worthy. Despite what some might think, the management of her financial affairs doesn't end on her passing. Managing her estate in a tax effective manner was just as important. Securing her wishes prior to her leaving us is a vital piece of the financial roadmap. For without a comprehensive estate plan, her nest egg may have ended up in the wrong hands.
As is the case with all Modoras clients, the focus remained on making the difference to Dorothea's life. By providing comprehensive, knowledgeable advice in a friendly, caring environment in which personally getting to know her was always a priority, it was financial security that enabled Dorothea to do the things she enjoyed. From her love of helping animals – cats in particular, to the concert of a lifetime – seeing André Rieu perform live on stage, Dorothea lived a fulfilling life.
With no immediate family, she decided to act on her lifelong love of animals, bequesting her wealth to the RSPCA Qld. Their mission is to "help animals, enlighten people, change lives." With a dedication to improving the lives of all domestic, farmed and native animals, Modoras' support of Dorothea's financial journey has enabled her to improve the lives of others and take care of mistreated, unwanted animals for years to come.
The RSPCA was not aware of Dorothea's donation until after she had passed, so they were never able to express their thanks to her in person. But her legacy remains in the lives of all the animals being saved, in the work of those who strive to maintain the mission of the RSPCA and in the lives of all those who have adopted countless rescued animals. It is no exaggeration to say that Dorothea's gift is saving the lives of innumerable animals throughout Queensland.
The plaque of the green wombat on the Remembrance Wall at the Brisbane Animal Care Campus, ensures us that Dorothea's legacy won't be forgotten.
IMPORTANT INFORMATION: This blog has been prepared by Modoras Pty. Ltd. ABN 86 068 034 908 an Australian Financial Services and Credit Licences (Number 233209). The information and opinions contained in this article is general information only and is not intended to represent specific personal advice (Accounting, taxation, financial, insurance or credit). No individuals' personal circumstances have been taken into consideration for the preparation of this material. Any individual making any investment or borrowing decisions should make their own assessment taking into account their own particular circumstances. The information and opinions herein do not constitute any recommendation to borrow funds or purchase, sell or hold any particular investment. Modoras Pty Ltd recommends that no financial product or financial service be acquired or disposed of, credit contract entered into or financial strategy adopted without you first obtaining professional personal financial advice suitable and appropriate to your own personal needs, objectives, goals and circumstances. Information, forecasts and opinions contained in this blog may change without notice. Modoras Pty. Ltd. does not guarantee the accuracy of the information at any particular time. Although care has been exercised in compiling the information contained within, Modoras Pty. Ltd. does not warrant that the articles within are free from errors, inaccuracies or omissions. To the extent permissible by law, neither Modoras Pty. Ltd. nor its employees, representatives or agents (including associated and affiliated companies) accept liability for loss or damages incurred as a result of a person acting in reliance of this publication.