March 07, 2020
You Can Be Young Without Money, But You Can't Be Old Without It
Did you know there is a good probability you could outlive what you save for retirement? Scary thought isn't it? Would you like some vital information for you to find out if you can outlive your retirement savings and live your life to the fullest? As the saying goes, "You can be young without Money, but you can't be Old without it"..
So said Tennessee Williams, the American Playwright in the movie Cat on a Hot Tin Roof. This quote was made in the 1950s and its relevance is never truer than now.
The Australian Pension age goes up to 67 by 2023 and at this stage is only available for those with under just over $800,000 in assets (in addition to the family home). It's a catch 22. If you have planned well, by then your superannuation and other assets are likely to be valued at more than this. And if they aren't, then the pension is not enough to live a comfortable retirement lifestyle.
How much is enough to retire on?
One way to look at how much you will need is to calculate your life expectancy (see table below), calculate your living expenses. If you are a couple, work out the amount for both of you.
For example, if you were a 60 year old female, you can expect to live another 26 years. If your living expenses for a comfortable lifestyle is $50,000 a year, then you multiply $50,000 by 26 to equal $1.3 million. You may need to adjust these figures to account for your own lifestyle taking in living costs, hobbies, holidays and medical expenses. You should also consider the effects of inflation on the cost of living. In the above scenario if YOUR lifestyle was $75,000 per annum you would need $1.95 million.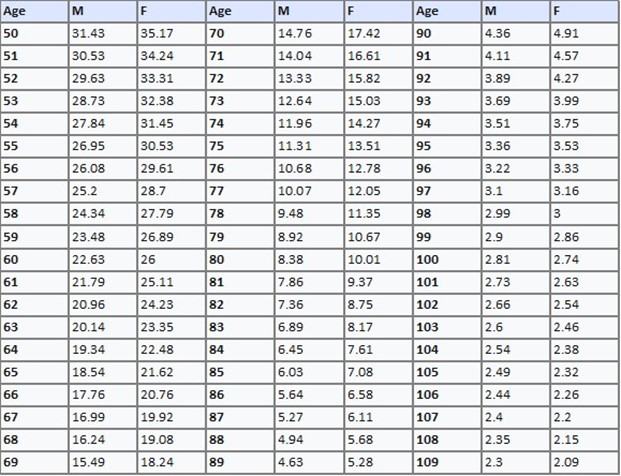 There was a theory that the older you got in retirement the less you need. In one of the great paradoxes of the world one of the major reasons we are living longer is due to improving medical and health care. These allow us to do things we like to do for a longer period of time, but when you slow down later in life these costs are likely to rise. So whilst your living costs MAY drop, they will likely be replaced by medical and health care costs.
You can achieve your retirement plan savings in a number of ways. The intention to receive regular salary increases should not form a part of this plan. Why? – This is not something you can bank on. According to the Australian Bureau of Statistics, the highest age earning bracket is for individuals aged between mid-thirties and mid-forties. Earning more is not guaranteed and even if you are earning a large salary, you are likely to still need to both save and invest for your future.
Inflation—the silent threat to your retirement savings
As you plan for your golden years, it's crucial to consider the impact of inflation on your financial well-being. Did you know that the cost of living tends to rise over time? What seems like a substantial nest egg today might not be enough to sustain your desired lifestyle in the future.
It's important to gain the knowledge and strategies you need to safeguard your financial future.
Don't leave your retirement to chance. Stay ahead of inflation – Plan and protect your future. This will help equip you with the tools and strategies to navigate the complexities of retirement planning and outsmart inflation.

Going without
The sooner you start to plan for retirement, the more you'll have, the more retirement lifestyle choices you get. Whether you have millions in assets or none, we can tailor a plan specifically for you that will protect what is most important to you whilst bolstering retirement possibilities. There is never a time to early to start but there can be a time that is too late, severely impacting on our retirement possibilities.
While we are young, preparing for retirement is not something that is front of mind. Being young and having money to spend is fun, but as the quote says, "You can't be old without money". With professional advice, exploring your lifestyle potential is just the beginning. Don't leave it to chance… Achieve more is possible when you know how.
Contact us today to arrange a coffee and a chat. It's complimentary!
IMPORTANT INFORMATION: This blog has been prepared by Modoras Pty. Ltd. ABN 86 068 034 908 an Australian Financial Services and Credit Licences (Number 233209). The information and opinions contained in this presentation is general information only and is not intended to represent specific personal advice (Accounting, taxation, financial, insurance or credit). No individuals' personal circumstances have been taken into consideration for the preparation of this material. Any individual making any investment or borrowing decisions should make their own assessment taking into account their own particular circumstances. The information and opinions herein do not constitute any recommendation to borrow funds or purchase, sell or hold any particular investment. Modoras Pty Ltd recommends that no financial product or financial service be acquired or disposed of, credit contract entered into or financial strategy adopted without you first obtaining professional personal financial advice suitable and appropriate to your own personal needs, objectives, goals and circumstances. Information, forecasts and opinions contained in this blog may change without notice. Modoras Pty. Ltd. does not guarantee the accuracy of the information at any particular time. Although care has been exercised in compiling the information contained within, Modoras Pty. Ltd. does not warrant that the articles within are free from errors, inaccuracies or omissions. To the extent permissible by law, neither Modoras Pty. Ltd. nor its employees, representatives or agents (including associated and affiliated companies) accept liability for loss or damages incurred as a result of a person acting in reliance of this publication.