January 09, 2023
Modoras is bringing integrated advice to Bundall
Goodbye Surfers! 
And Hello Bundall! 
After many happy years operating out of our Cavill Avenue headquarters, our Gold Coast integrated advice team are on the move!  
The world has changed dramatically in recent years – and so too have our clients' needs. To prepare ourselves for the next stage of the Modoras growth journey, our Gold Coast team are heading across the canal to Bundall.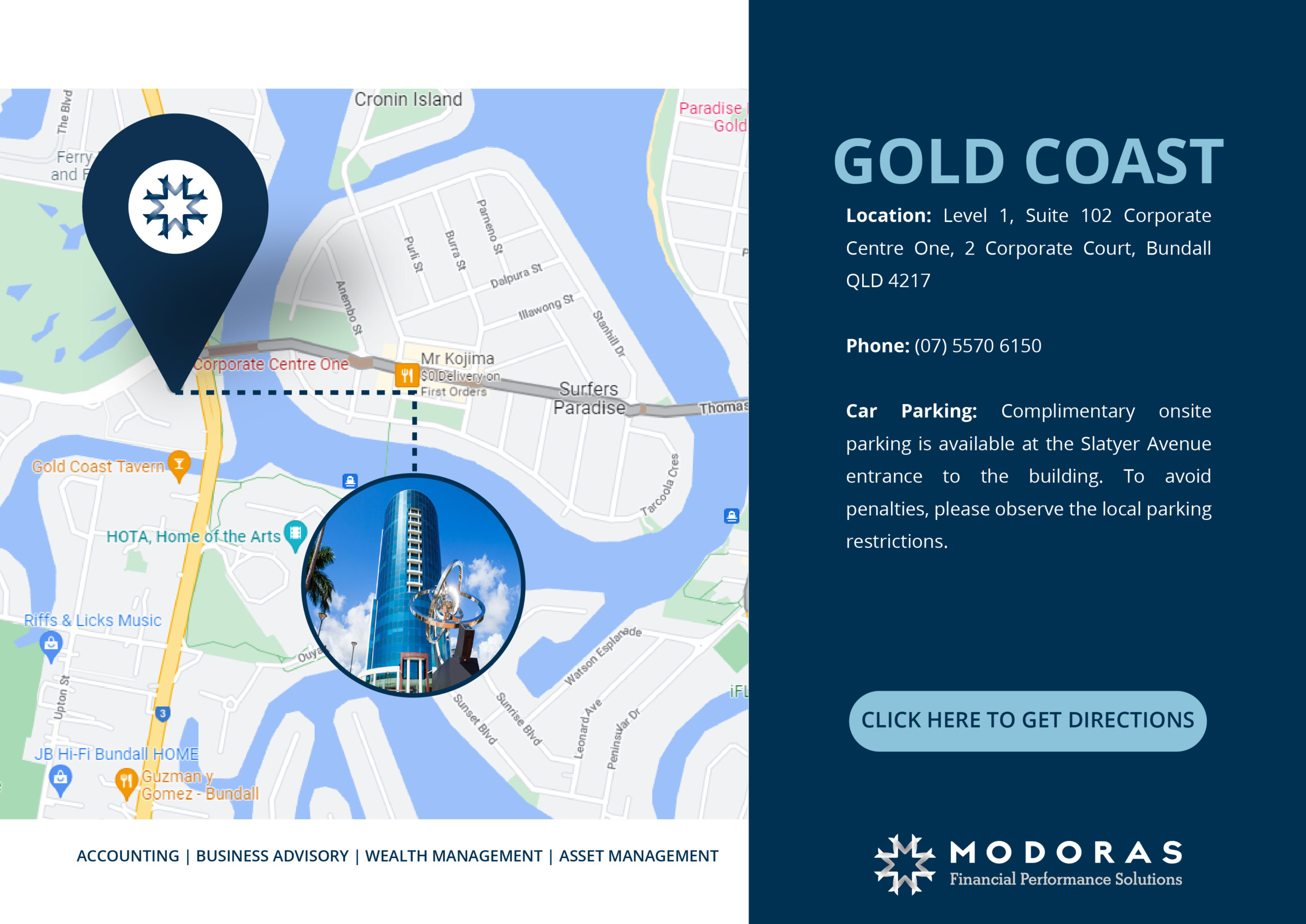 Our new offices will be located in The Corporate Centre, Cnr Bundall Rd and Corporate Place.  There's plenty of parking, great technology, and a more flexible space to accommodate more client meetings with more of our Modoras experts. This move will ensure an even better experience to help every client reach their lifestyle potential.  
We can't wait to welcome you to our new offices and will be moving in February 2023.
WHERE TO FIND US: 
Level 1, Suite 102,
Corporate Centre One, 2 Corporate Court,
Bundall QLD 4217
TRANSPORT AND PARKING 
We are well serviced by the 738, 740 and 747 Bus Routes, all passing within a 3-minute walk of our offices.
There's plenty of free onsite parking (2hr limit) for clients directly outside the building, with the driveway entry off Slatyer Avenue.
So what's changed? 
Our main contact details have remained unchanged – our email and phone system will be rerouted to our new location. You can reach our Gold Coast team on:
07 5570 6150 
BUT, you WILL need to update our addresses in your inboxes: 
Level 1, Suite 102,
Corporate Centre One
2 Corporate Court,
Bundall QLD 4217
PO Box 9260
Gold Coast MC QLD 9726