2018 Financial Year Resolutions
Get off the EOFY roundabout with our top 8 financial year resolutions that will stop the stress at tax time. It's all about getting organised, planning ahead and working out what's important to you.
Get your Finances Into Shape with our Top 8 Financial Year Resolutions
If you're the type of person who always starts something new on a Monday, we bet you love it when a new financial year rolls around. It's one of our favourite times of the year too. But tax time can be stressful.
That's why here at Modoras, we're big believers in planning ahead to ensure you reach your financial goals throughout the year and do what you need to stress less in June. The best thing about these resolutions is that they are easy and actionable steps that will set you up for the year.
1. Review What's Important To You?
The start of a new financial year is a great time to review what's important to you and how you're tracking in those areas. We've helped hundreds of clients review their current situation and the overwhelming response is that they've gained incredible clarity – personally and financially. The importance of this process meant that we wanted to develop a tool that can help you too.
Our 'What's Important to You' tool is a series of questions that enables you to get a clearer picture of where you are now, and where you want to be. Once you have completed the questions, you receive a personalised report with your priorities outlined in clear and simple terms along with recommended solutions.
We also offer a complimentary appointment with one of our experienced and professional planners to guide you through the results and formulate a plan. Empowering you to experience your lifestyle potential.

2. Set Measurable Goals 
Improve your chance of financial success by setting goals using the SMART method. (Specific, Measurable, Achievable, Relevant, Timely). These may be goals related to saving, debt reduction, lifestyle or a new investment. Divide them into short, medium, and long term goals and start taking steps to get them done! Share your goals with your accountant so any taxation benefits or implications can be considered in advance.
Goal setting doesn't need to be complicated, but commitment and focus are required to set the kind of goals that will fire up you up and make a real difference to your results.
RELATED POST: ARE YOU PROGRESSING TOWARDS YOUR FINANCIAL GOALS?
3. Get Organised 
It's well known that we don't always make the best decisions when we're hurried or under pressure. Being organised gives you time to consider all your options and make decisions that are suitable for you. Speaking with a financial planner can assist with this process.
Financial Planners consider your current circumstances as well as your future possibilities to provide you with a practical and tangible plan to get ahead. This prior planning means that when a difficult situation arises, your earlier decisions will help to navigate the situation and get you through with minimal stress. Make this the year to make what's possible, a reality.
4. Take A Look At The Bigger Picture
Your financial life is like a jigsaw puzzle. It needs to be put together piece by piece and placed in the right position to create the bigger picture… your lifestyle potential. Most people try to piece their financial puzzle together on their own or with a friend. Some get it right, some don't. Modoras Planners have been piecing these puzzles together for over 36 years.  Make sure your financial puzzle is on the right track. You will be amazed how far a Planners expert advice and insight can take you.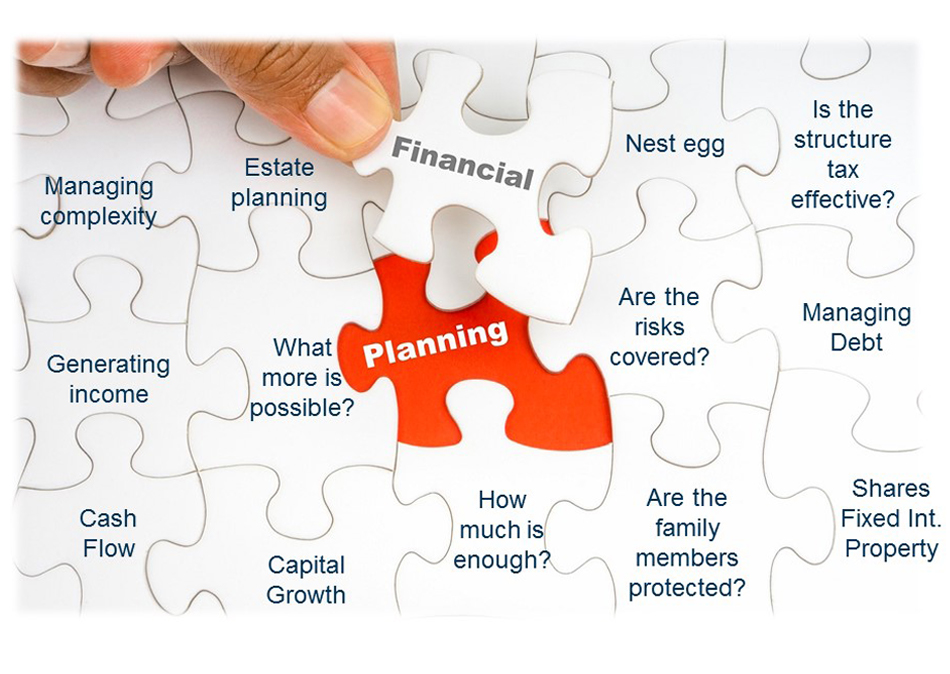 5. Make Sure you are Protected  
Many believe their most valuable asset is their home. They protect it at all costs. What if we told you that more often than not your most valuable asset, is you.
Your ability to earn an income. A serious illness or injury can strike any of us at any time. Potentially stopping you from working for an extended period. And what if we told you that only 4% of Australians with dependent children have adequate levels of protection.*
Don't risk you and/or your family's lifestyle and the home you have worked so hard for. Seek advice and make sure you are protected from the unexpected.
6. Consolidate Your Super
If you're still maintaining multiple super accounts, you could be losing money in unnecessary fees. Streamline your super online with MyGov or speak to us for advice about the right super option for you. From industry and retail funds to self-managed funds, with the super environment being so confusing, a super specialist is the ideal partner to discuss your options.
7. Pay Yourself First – Make a Super Contribution 
With everyone wanting a piece of our salary. From mortgage payments to bills, to groceries, we often forget to keep some for ourselves. Secure your financial future and pay yourself first. Whether that be inside or outside super. The fact is, the sooner you start, the more you'll have, the better off you'll be. Recent changes to tax deductions for personal super contributions, it may be beneficial for you now to consider additional deposits into super. Please speak with a financial planner to ensure it's the right decision for you.
8. Treat Yourself 
We'd never advocate all work and no play so once you've done all the steps above, it's time to treat yourself. This could be anything from trying a new restaurant to taking a well-deserved holiday. Locking it in and making it part of your plan for the new year means you've got something to look forward to while you're working toward your future lifestyle possibilities.
Let us help you keep your financial year resolutions and take the stress out of tax time next year. Invite us along on your journey, you will be amazed how far our expert guidance can take you. Contact us on 1300 888 803 or click here to arrange a complimentary appointment with a Modoras Professional.
SOURCE:
*Underinsurance a problem in Australia
This blog has been prepared by Modoras Pty. Ltd. ABN 86 068 034 908 an Australian Financial Services and Credit Licences (No. 233209), located at Level 3, 50-56 Sanders St, Upper Mt Gravatt Q 4122. The information and opinions contained in this fact sheet are general information only and is not intended to represent specific personal advice (Accounting, taxation, financial, insurance or credit). No individuals personal circumstances have been taken into consideration for the preparation of this material. Any individual making a decision to buy, sell or hold any particular financial product should make their own assessment taking into account their own particular circumstances. The information and opinions herein do not constitute any recommendation to purchase, sell or hold any particular financial product. Modoras Pty. Ltd. recommends that no financial product or financial service be acquired or disposed of or financial strategy adopted without you first obtaining professional personal financial advice suitable and appropriate to your own personal needs, objectives, goals and circumstances. Information, forecasts and opinions contained in this fact sheet can change without notice. Modoras Pty. Ltd. does not guarantee the accuracy of the information at any particular time. Although care has been exercised in compiling the information contained within, Modoras Pty. Ltd. does not warrant that the articles within are free from errors, inaccuracies or omissions. To the extent permissible by law, neither Modoras Pty. Ltd. nor its employees, representatives or agents (including associated and affiliated companies) accept liability for loss or damages incurred as a result of a person acting in reliance of this publication.