What is e-invoicing and how can it help your business?
In Australia more than half of business invoices (53%) are paid late and are, on average, 23 days overdue.
These statistics stem from research by the Australian Small Business and Family Enterprise Ombudsman, which found these overdue invoices are worth $115 billion, or $52,000 for every small business in the country.
It explains why the federal government is trying to accelerate the adoption of electronic invoicing (e-invoicing), which will help small businesses get paid faster and improve their cash flow.
Electronic invoicing does not involve emailing invoices, nor is it a PDF invoice.
Rather, it's the ability to electronically transmit invoice data from one party's accounting system to another's, regardless of the software used to generate the invoice.
Benefits of e-invoicing
Electronic invoicing reduces the risk of invoices getting lost in the post, overlooked or inadvertently missed in an inbox.
And it removes the need to manually rekey or scan invoices into accounting systems, make corrections or chase missing information.
Not only that, processing an e-invoice (less than $10) is about three times more cost-effective than processing a paper invoice (nearly $31) or an emailed PDF invoice (almost $28).
These savings are shared by the buyers and suppliers and their accountants and bookkeepers.
(These savings don't consider hidden costs, such as late fees and missed discounts for early payment.)
In short, e-invoicing is a faster and more efficient, accurate and cost-effective way to approve, process and pay invoices.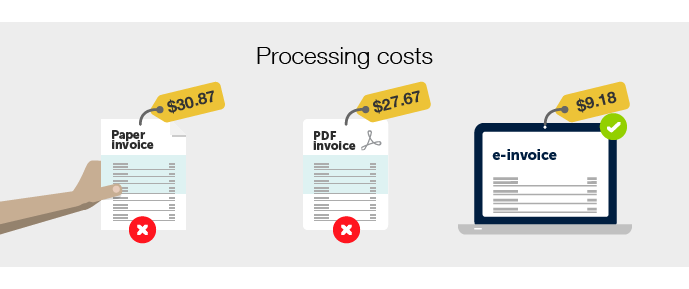 Pan-European Public Procurement Online standard
The Australian Government has approved the Pan-European Public Procurement Online (Peppol) standard for e-invoicing in Australia.
The Peppol standard allows invoice exchange between different accounting systems.
It's been described as a telephone network for invoices. When someone sends you a text message you can immediately recognise that person by their phone number.
The same applies to receiving invoices through the Peppol network. The receiver can easily identify the person — or company — that sends the invoice by their so-called 'Peppol ID'.
In Australia Peppol identifies the invoice recipient and sender using their Australian business number (ABN).
This unique ID means there can be no misunderstanding about the respective parties' identities, and it makes fraudulent invoices and typing errors impossible.
Adoption of e-invoicing in Australia
The agency driving government and business adoption of e-invoicing in Australia is the Australian Taxation Office (ATO).
The ATO is developing local specifications based on the Peppol standard (as is the case with paper and PDF invoices, the ATO cannot see the contents of e-invoices).
The federal government has made a commitment to electronically receive 80% of its suppliers' invoices by 1 July 2021 and all their invoices by 1 July 2022.
Meanwhile, it's consulting with small, medium and large businesses about broader adoption of e-invoicing.
According to Intuit QuickBooks and Accountants Daily, which jointly published an e-book about e-invoicing, the federal Treasury has flagged three potential consultation outcomes:
mandatory adoption requirement for all businesses, phased in over time
mandate for large businesses only
flexible, non-regulatory approach, allowing businesses to choose when to adopt e-invoicing.
Getting your business started with e-invoicing
Though it's not mandatory, e-invoicing has lots of advantages over the older alternatives, as outlined above.
To find out how your business can start e-invoicing, the ATO recommends you contact your accounting software provider to see:
if you're digitally ready
how and when they can help
what you need to do.
Need help?
Looking to make the switch to e-invoicing?
We can give you a second opinion on your accounting software and advise you what to do to ensure it delivers all the services and functionality your business requires.
Contact us for a complimentary consultation at info@modoras.com or 1300 888 803.
IMPORTANT INFORMATION: This blog has been prepared by Modoras Accounting (QLD) Pty. Ltd. ABN 81 601 145 215. The information and opinions contained in this blog is general information only and is not intended to represent specific personal advice (Accounting, taxation, financial, insurance or credit). No individuals' personal circumstances have been taken into consideration for the preparation of this material. The information and opinions herein do not constitute any recommendation to purchase, sell or hold any particular financial product. Modoras Accounting (QLD) Pty. Ltd. recommends that no financial product or financial service be acquired or disposed of or financial strategy adopted without you first obtaining professional personal financial advice suitable and appropriate to your own personal needs, objectives, goals and circumstances. Information, forecasts and opinions contained in this blog can change without notice. Modoras Accounting (QLD) Pty. Ltd. does not guarantee the accuracy of the information at any particular time. Although care has been exercised in compiling the information contained within, Modoras Accounting (QLD) Pty. Ltd. does not warrant that the articles within are free from errors, inaccuracies or omissions. To the extent permissible by law, neither Modoras Accounting (QLD) Pty. Ltd. nor its employees, representatives or agents (including associated and affiliated companies) accept liability for loss or damages incurred as a result of a person acting in reliance of this publication. Liability limited by a scheme approved under Professional Standards Legislation.